"Back to back"
»You can include also buyers with less suitable creditworthiness.«

You have surely already encountered to the problem where some of your buyers were not "suitable" for classic form of factoring service due to their lower creditworthiness.
---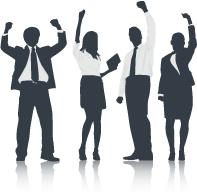 Fine as well …. but let's make a step further
PRO-FOCUS has a solution for you. Your (at first glance not creditworthy) buyers cannot be included into factoring scheme and are still paying late. On the other hand they cooperate with good buyers, but have longer payment terms agreed with them what reflects at your business by your buyers paying late to you.

In agreement with us and your buyers we can make a financing model which would provide you with timely payments of your buyers while on the other hand your buyers will be offered an opportunity to shorten payments terms towards their debtors.